Are you looking for a Job? Well, UAE comprises of some of the poshest emirates in the world. It has almost become turned into a prominent job hub, where hundreds of immigrants travel to seek for new job opportunities every year. UAE is home to more than 9 million people in the world. And 80 percent of this population is working however, they are always looking for a better opportunity to land their dream job. Job sites have transformed the job hunting process in the world. This phenomenon has helped people from different countries to seek employment and recruitment opportunities from across the globe. Are you a fresh graduate or an experienced specialist, who is looking for their dream job, then sign up with these best top 8 job sites in UAE today.
Bayt is a leading Middle East Job portal, which is used by millions of local companies and individuals to seek and get employees. Its filtration list is categorized based on cities, job role, specialty, career level, company type, and industry. It is also spreading its wings towards North African countries like Egypt.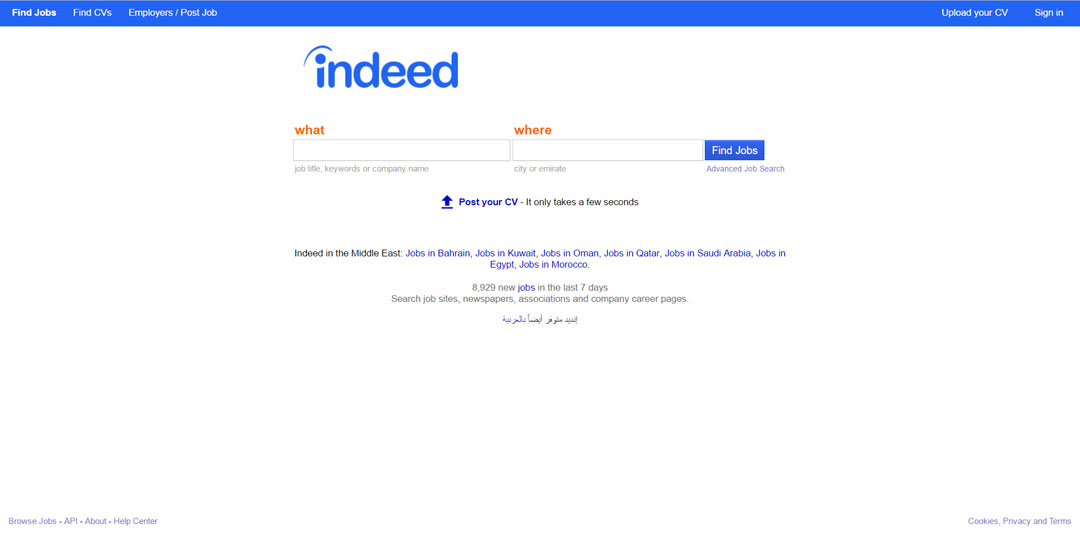 This is international job portal, which has satisfied billions of people across the planet, giving them an opportunity to land their dream job. You can find any type of job from internship to full- time job with this site. Indeed is also available as a phone application. They have a special feature on their app which allows you set a distance, and find jobs within that range. So you can search a job within 5 km to your place to the other part of the world.
It is a job site portal created by Indian e-commerce Info Edge. Naukrigulf.com is exclusively designed to register and apply for job vacancies in top companies in Gulf countries. You can get an interview call by just uploading your resume without any fee.
Monster is an international job portal, which has initiated this website, especially for Gulf region. It has tie-ups with the biggest UAE brands in the world. You can find all types of jobs, with walk-in as well placement interview. It is also available in app form, so download it today and happy job hunting.
GulfTalent is a well-known job hunt site in Gulf region and the Middle East. The site connects you with top agencies, with job opportunities in all sectors based on your education and specialization. You can get the best prize for your degree by creating a profile here today.
It is a Job hunt portal, with a search access of over 42,151,211 jobs, which are published on more than 30.063 websites. You can search for jobs from Gulf to countries around the world on this website. It has access to almost every category of job.
GNcareers.com is UAE based employment portal. Just upload your CV and create a profile and you will be receiving mails from all the companies in UAE. This website is also known for posting career new and advice with employment laws and changes on its website. So you will be updated about all the major happening in the employment world.
Laimoon is just another employment and recruiting portal, which has over 30,000 job opportunity. Their website also offers professional courses and degrees which can help you with your corporate training and specialization. You can also pursue MBA and language courses from this website.
Bonus..
WhatJobs is giant search engine for the jobs advertised in the United Arab Emirates. They aggregate a large number of job offers and thus making it easier for you to find one.
You can find a wider range of job vacancies in just one place rather than joining multiple job boards and being flooded with too many email notifications. WhatJobs? will send only the job alerts that you require.
For instance, if you are searching for an accountant role, you can register with WhatJobs and be sure that you will get most of the available accountant roles than any other multiple niche job boards combined.
10. GrabJobs
"GrabJobs is a cost-effective recruitment solution that automates sourcing, screening, and interviewing of candidates. With over 5,000 companies using the job platform to simplify their hiring process, it's becoming a popular choice amongst job-seekers. It has also been recently recognized as one of the top job platforms in Singapore according to MediaOne.
Tired of filling in your personal and professional details on multiple job sites? On Grabjobs, job seekers will have their profiles automatically generated for them. Additionally, they can also apply for new jobs in under a minute. This can be done with the automated chat-bot pre-screening interviews!
Subsequently, shortlisted candidates will then have an interview with the employer scheduled for them. Candidates will also receive automated reminders to attend their interview sessions."